Main Content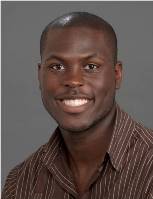 Bryan Wilson, a PhD/MBA Graduate Student in the Molecular Medicine and Translational Sciences program at the Wake Forest University Graduate School of Arts and Sciences and the Schools of Business is a proud recipient of the 2015 Winston<40 Leadership Award!
This award is given to 20 individuals that are excelling in their respective fields. These individuals are also actively influencing the growth, prosperity and quality of life in Winston-Salem and Forsyth County. The awards will be presented at the Winston<40 Gala that will be held this fall. The Young Professional of the Year will be selected from the pool of 20 Winston<40 Award recipients and be given during the Chamber's Annual Meeting. This honor is presented to an individual with a demonstrated commitment to Winston-Salem and Forsyth County through civic and business involvement, especially during the past year. He/She will possess values consistent with those of Winston<40 and the Winston-Salem Chamber of Commerce including an unwavering responsibility to the community through involvement with local organizations that elevate the overall quality of life of our community.
The Leadership Award will be presented at the Winston<40 Gala on November 14th at 6 p.m. at the Embassy Suites Grand Pavilion Ballroom.
Recent Posts
May 27, 2020

April 27, 2020

April 1, 2020