Main Content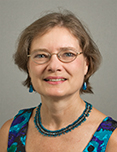 I am pleased to announce the appointment of Dr. Allyn Howlett, Professor of Physiology and Pharmacology as Assistant Dean in the Graduate School. Dr. Howlett is a professor in the department of Physiology and Pharmacology, and teaches courses in both Integrative Physiology and Pharmacology and the Neuroscience graduate tracks.  Dr. Howlett has been undertaking dual roles in the Graduate School, having served as Director of the Integrated Physiology and Pharmacology graduate program since 2010, and more recently as director of the office of postdoctoral affairs since 2014. Dr. Howlett is the PI of the NIH-sponsored PRIME program, which is a unique training program for combined research and teaching at the postdoctoral level. Dr. Howlett will step down from the IPP directorship to assume this new role, and will report to Dean Godwin in this capacity (The IPP directorship will be reassigned within the next few weeks).
Dr. Howlett has experience in managing and administering graduate programs at many levels. She previously served on the WFU Clinical and Translational Science subcommittee on Research Education, Training and Career Development (2007-08); the WFU NHLBI T32 training grant in 'Integrative Lipid Sciences, Inflammation and Disease'' advisory committee (2007-12); the WFU NIGMS 'Prep Scholars Program' advisory committee (2009-12); the NIDA training grant executive committee (2012), and the WFU Graduate School committee on Professional Development (2008-11). Dr. Howlett also serves on the WSSU MARC U*Star and MBRS RISE advisory committees (2008-12), and the NIAAA-sponsored NCCU-UNC-Chapel Hill Alcohol Studies advisory board (2010-12). Dr. Howlett will assume her new duties immediately.
I am very pleased that Dr. Howlett will be taking on this new role, and I am looking forward to working with her to improve the value of our programs for students and postdoctoral trainees, to work toward improved integration with the CTSI and to provide greater service to our graduate faculty as our campus grows into the Innovation Quarter.
Dwayne Godwin, PhD
Professor and Dean
Graduate School of Arts and Sciences
Biomedical Graduate Programs
Recent Posts
May 21, 2021

May 12, 2021

May 11, 2021