Main Content
Graduate student – if you're looking for a job in the spring and want to have some structure, support and resources, this group may be just what you're looking for. Please review the description below and if you're interested please fill out the form included below. If you have any questions – please contact Linda Whited.
Graduate Student Job Search Group forming for Spring 2017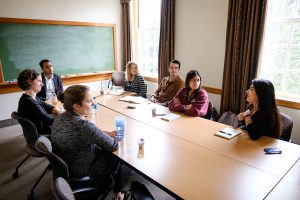 Description: This group is for graduate students (master's and PhD) who are in the process of searching for a job as of graduation May 2017. The focus is to help improve search strategies and maintain motivation toward career goals by providing: (a) structure during the job search and (b) support and encouragement in a group atmosphere. This would meet weekly based on the groups availability.
Criteria for the group: 
Graduating in May 2017
Willing to commit 1 hour weekly (or biweekly depending on the group interests)
Actively searching for employment
Deadline to apply is January 23, 2017
Recent Posts
May 27, 2020

April 27, 2020

April 1, 2020