Main Content
Every year the Carolina Association of Translators and Interpreters (CATI) brings together roughly 100 professionals from the Carolinas representing different faucets of the language industry. This year the WFU Graduate Program in Interpreting and Translation Studies (ITS) is hosting the event. The key note speaker is Johanna Parker, a CCHI and NBCMI Certified Medical Interpreter, who will be presenting the topic "Raising the Standards of Healthcare Interpreting". There will be 9 additional sessions covering other topics of interest and current industry trends, including two panels of ITS students presenting their graduate research: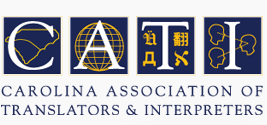 Heritage Speakers and Bilinguals: Prime Candidates for Becoming Interpreters – Mary Clark
War as a Breeding Ground for Distrust: The Vulnerable Position of the Conflict Interpreter – Christina Huneycutt
Acceptance of Video Interpreting in Medical Settings – M. Belén Watkins
Challenges Present in Translating Humor – Taylor Dixon
Improving lay-friendliness in immigration documents: English-Chinese translation of Form I-864 – Junlan Li
Registration is required.
---
Recent Posts
May 27, 2020

April 27, 2020

April 1, 2020