Main Content
Please check out this short video about the course (about 1min)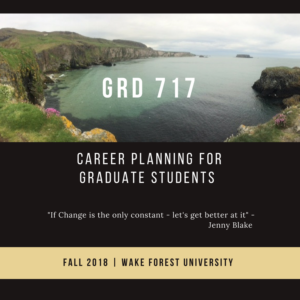 This *NEW* online course GRD 717 (1 credit) is for all Reynolda campus graduate students. it is designed for students to approach it in their own time on their own schedule with weekly due dates. Linda Whited, career coach, will be facilitating it online over 7 weeks starting August 27. This course is pass/fail and is meant to prepare you for a job search and clarify your career path. If you're a full time student, this course doesn't cost anything extra to take it. This is the first time this course has been offered and if you're interested in taking it for zero credit (auditing) that is also an option.
Deliverables from the course:
A LinkedIn profile and understanding of using it for networking
A job search strategy and tools to find openings
A resume and cover letter refined and targeted toward your career goal
An informational interview with a relevant leader in your field
Self assessments to help you articulate your career direction and what makes you marketable to a future employer
Additional skills in interviewing and salary negotiation 
An online presence that articulates your career trajectory and is ready to share with the world.
CRN is 96314 and you can register via WIN.
Questions about the course should be directed to Linda Whited at whitedlm@nullwfu.edu
Recent Posts
May 27, 2020

April 27, 2020

April 1, 2020