Main Content
18th Annual NC Master's and Doctoral Career Fair
Tuesday, November 13, 2018
12:00pm – 4:00pm
Friday Center in Chapel Hill, NC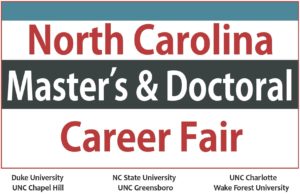 All Master's and Ph.D. level students are invited to attend this outstanding career fair that is sponsored by six universities. This career fair will feature employers interested in hiring the best, most qualified candidates for their companies. This event typically draws over 500 advanced degree candidates and is a great opportunity to learn about internships, postdoctoral, and full-time positions.
At present there are 45 organizations who have registered to attend: AARP, Air Force Health Professions, Applied Research Associates, Inc. (ARA), Arthrex, BAE Systems, Inc., BD (Becton, Dickinson & Company), Beijing Royal School, Carney, Sandoe & Associates, Charles Aris Inc., ConsenSys, Danfoss, Federal Bureau of Investigation, Georgia Tech Research Institute, IMPACT Pharmaceutical Services, Indeed, Innovative Decisions Inc., m3 Engineering & Technology, North Carolina Department of Health and Human Services, Nuventra Pharma Sciences, Oak Ridge Institute for Science and Education, Oak Ridge National Laboratory, ORISE Department of Defense Programs, Peace Corps, Pendo, PETA International Science Consortium, Precision Lender, Procter & Gamble (P&G), Reata Pharmaceuticals, Research Square, Reynolds American Inc., RKF Engineering, RTI International, Sandia National Laboratories, SAS, Solutions Through Innovative Technologies Inc., Southern Teachers Agency, Stallergenes Greer, State Street Corporation, TE Connectivity, The Henry M. Jackson Foundation for the Advancement of Military Medicine Inc. (HJF), The Home Depot, U.S. Air Force, United States Army Special Operations Command, US Food and Drug Administration (FDA), and Wells Fargo.
Preview the 2018 Employer List: Click here
A few will host mini-information sessions: Wells Fargo, Research Square, ORISE Department of Defense Programs, Sandia National Laboratories, Danfoss, BD (Becton, Dickinson & Company), and State Street Corporation.
The event will be held at The Friday Center in Chapel Hill, NC. Event directions and parking information: https://fridayconferencecenter.com/about/.
Prepare for the Career Fair:
Business professional attire is strongly encouraged; try on clothes the night before
Food will not be served at the fair, so please plan accordingly
The doors will open for students promptly at 12:00pm. Plan to arrive toward the beginning and give yourself time to see everyone on your list (there may be lines for the representatives)
Make your short list to visit while at the fair. Develop at least two well thought out questions to ask each representative.
Be open to speaking with other companies you didn't plan for. Attend info sessions to gain additional knowledge.
Develop and practice a strong pitch to introduce yourself
Take care of yourself! Get good rest the night before and eat breakfast.
Bring several copies of your *reviewed resume, paper, and a pen for notes.
Draft a thank you template email to be adapted later for each representative you meet.
Students who are interested should register for the event.
If you are interested in carpooling to the event, please fill out this form.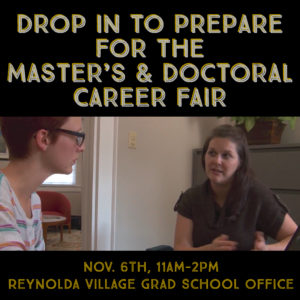 *If you haven't had your resume reviewed, email Linda Whited at whitedlm@nullwfu.edu or plan to stop in Reynolda Village Graduate school office 118A on November 6 11am-2pm for a resume review.
Need directions to the Graduate School office in Reynolda Village? Parking is available down the hill from Silo Bistro or behind Boho Blue (a retail store). You can also access the office from the walking path from campus. Can't make it? Schedule an individual coaching session with Linda to prepare.
For more information, please see the NC Master's and Doctoral Fair website.
Questions? Contact Linda Whited at whitedlm@nullwfu.edu
Recent Posts
May 27, 2020

April 27, 2020

April 1, 2020