Main Content
Afraid you won't have a job when you graduate?
With career planning, you WILL! 
 Don't miss this chance to start your career exploration and planning today. The most successful students start early, and use their training to develop the skills needed for success in their chosen career path. We hope you will join us for this FREE event that is open to all graduate students.
Zero to Hero Career Success Workshops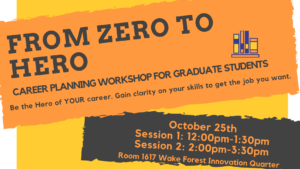 This 2 part workshop series is interactive and meant to further your career plans and clarity. Each is 90 minutes and food is provided. Rebekah Layton from UNC TIBBS Center will be facilitating the content. It will be held at Wake Downtown on Friday Oct. 25.
Location: Room 1617 Wake Forest Innovation Quarter (Bowman Gray campus). 
For Wake Downtown Shuttle schedules please see: 
https://parking.wfu.edu/ride-the-wake/wake-downtown-shuttle-schedule/
A light lunch and snacks will be provided during the workshops. So please RSVP before October 22nd.
——————————————————————————–
Phase I: What's the job? Friday, October 25th, 12-1:30p 
Common PhD career options

Associated career skill sets

Techniques for personal career exploration

Tailored job skill profile

Personal SMART goal plan
——————————————————————————–
Phase II: Getting the job! Friday, October 25th, 2-3:30p
Individual skills inventory

Personalized skill gap analysis

Draft cover letter

Draft resume

Personal SMART goal plan
Not sure what that is yet? Phase I is for you! 
Phase I attendees will have the chance to learn about some common PhD career options and associated skill sets. You'll leave the workshop with techniques for personal career exploration and an understanding of how to generate a tailored job skill profile.
Already know what career you want? Phase II will help you get there!
Phase II attendees will leave with an individual skills inventory and a personalized skill gap analysis. You'll also receive help drafting your written job application documents (CV/resume and cover letter).
Better yet, DO BOTH: Start from the ground up to identify career pathways that are a good fit for you, evaluate your current skills and experiences as a match, and build a plan to get you there!
Both workshops will include creating a SMART goal plan for YOUR career success.

RSVP
before October 22nd!
Questions on this event, please email Career Coach Linda Whited at whitedlm@nullwfu.edu 
Recent Posts
October 4, 2021

September 24, 2021

August 4, 2021