Main Content
Please mark your calendar for the Career Fair on
January 18 from 12pm – 4pm in Benson 401.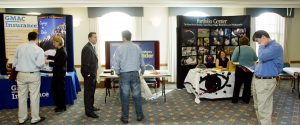 You can research the employers who plan to attend and what kind of positions they are recruiting for by reviewing the registrants in Handshake. This is highly recommended so you can decide how much time to allot to attending the fair, prepare in advance whom you will speak to, and determine what version of your resume or CV would be best to bring and share. If you have questions about preparing or if this event is right for your career goals – please talk with Career Coach, Linda Whited
Not sure how to navigate Handshake? Don't forget our Handshake and Hot Chocolate event coming up January 10!
In addition, please review more about career fairs from the OPCD website.
Recent Posts
May 27, 2020

April 27, 2020

April 1, 2020