Reynolda Campus – New Graduate Students – Spring 2019
Important Information and Required Forms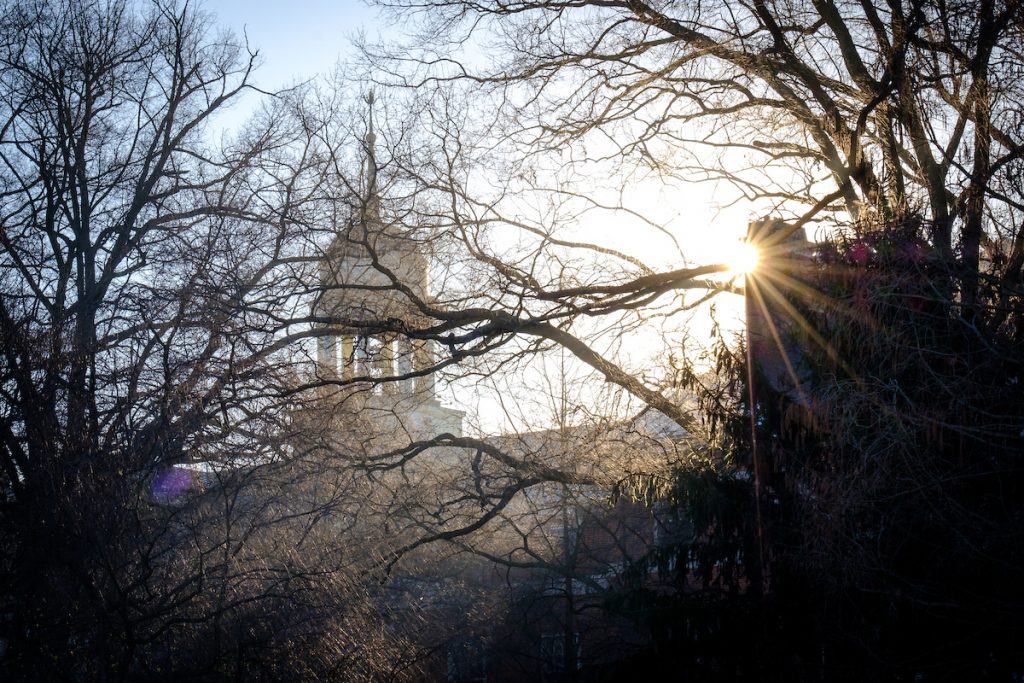 WELCOME
The Graduate School is extremely pleased to be able to welcome you to Winston-Salem, N.C. and Wake Forest University. The staff and faculty on the Reynolda campus hope that your educational experience is not only challenging, but rewarding as well.
Resources
Wake Forest University is characterized by its devotion to liberal learning and professional preparation for men and women, its strong sense of community and fellowship, and its encouragement of free inquiry and expression.  The information provided on this site is to help you with the relocation process and to help prepare you for an easy transition.
---
WIN ACCESS
An email will be sent to the email address provided on your application with information allowing you to access your WFU user name and password, which will give you access to the Wake Information Network.  This information is time sensitive.  Please set up your WFU email address as soon as possible.  Future emails will be sent to your WFU email address.
---
TECHNOLOGY AT WFU
Visit the New Student Computing page where you will find all of your computing needs on one page:  https://is.wfu.edu/new-student-computing/.
---
REGISTRATION INFORMATION
Please access the following link to view information regarding spring registration, https://graduate.wfu.edu/reynolda-campus-registration-procedures-2/.
NOTE:  Your application file will need to be complete (receipt of official documents and honor code form) before you will be able to register.  Please refer to your admission letter to view official documents needed for your file.  If you have any questions, please contact the Graduate School Office at gradschl@nullwfu.edu. 

---
STUDENT IDENTIFICATION CARD
Once you have WIN access, all new students are required to submit their photo to the Deacon OneCard Office by accessing https://wfuresidence.cherwellondemand.com/CherwellPortal/Doc%20for%20Students.  Photos should be submitted any time prior to Dec. 3rd.
---
HEALTH INFORMATION SUMMARY
The State of North Carolina requires that all students complete a 2018-2019 WFU Health Information and Immunization Form.  This form can be accessed at http://shs.wfu.edu/forms/.  The form should be returned directly to Student Health Services, PO Box 7386, Winston-Salem, NC, 27109.  If you have questions about the form, please contact the Student Health Services Office at (336) 758-5218 or shs@nullwfu.edu.  This form must be on file at the Student Health Services Office by December 3, 2018.   Student Health Services is located on the Ground Level, Reynolds Gymnasium, in the Wellbeing Center.
---
STUDENT HEALTH INSURANCE
Health insurance is required as a condition of enrollment for full-time, degree-seeking domestic graduate students and all international graduate students with F or J visas.  Students who demonstrate coverage that meets our criteria may waive the insurance provided by WFU by the waiver deadline date.  Information on the waiver process can be found on the Enrollment / Waivers page.  Open enrollment will begin on November 1st. 
International students with F or J visas will not have the option to waive from the Student Blue plan unless they are covered by a plan with comparable benefits and it is reviewed and approved by the University based on the minimum criteria. Additionally, the plan must be provided by a company licensed to do business in the U.S. with (a) a U.S. claim payment office, (b) a U.S. telephone number, and (c) plan literature available in English
If you are considering purchasing insurance in lieu of Student Blue, please contact the Student Insurance Program in advance to ensure the plan is acceptable. To have your plan reviewed, email your policy to studentinsurance@nullwfu.edu.
---
HONOR CODE STATEMENT
Please review and sign the Honor Code Statement.  Please return the form to the Graduate School at 200 Brookstown Avenue, Suite 305, Winston-Salem, N.C., 27101, or as an email attachment to gradschl@nullwfu.edu.  The Honor Code Statement must be received no later than December 3, 2018.
---
OFFICIAL MATERIALS
Please submit official final transcripts and official test scores to the Graduate School by December 3rd.
Official final transcripts must be received directly from your university either as a hard copy or an official certified electronic transcript (e-transcript).  Hard copies should be mailed to Graduate School of Arts and Sciences, Wake Forest University, 200 Brookstown Avenue, Suite 305, Winston-Salem, N.C., 27101.  Official electronic transcripts can be sent to gradschl@nullwfu.edu.
International Transcripts – International students must submit official transcripts which have been translated into English by their university, or a credential evaluation service such as World Education Services (WES) http://www.wes.org/.  If a conferred degree is not on the transcript, then we will also require official copies of your degree certificate and/or diploma.  NOTE: Transcripts, degree certificates and/or diplomas that have been translated by the student will not be accepted.  Official transcripts must bear all appropriate signatures and institution seal and be received directly from the institution in a sealed envelope.
Official test scores should be sent to the Graduate School – Reynolda Campus.  Test codes for the GRE and TOEFL can be found at http://graduate.wfu.edu/admissions-required-tests/.  Official IELTS reports will need to be sent via hard copy to the WFU Graduate School of Arts and Sciences, 200 Brookstown Avenue, Suite 305, Winston-Salem, N.C.  27101.
---
STUDENT FINANCIAL SERVICES
Wake Forest University uses an electronic billing system called the Deacon Electronic Account Center (DEAC) for all student accounts.  Log into WIN, access DEAC, click on "Online Bills" and then "Payment Profiles".  Bills may be paid via eCheck through a secure Automated Clearinghouse (ACH).  If you have any questions about this process, please email sfs@nullwfu.edu or call Student Financial Services at 336-758-5234.  Additional information regarding DEAC is available on the Student Financial Services website at http://finance.wfu.edu/sfs.
---
COST OF ATTENDANCE:  http://grad.financialaid.wfu.edu/cost-of-attendance/.
---
FINANCIAL AID
Any domestic graduate students interested in applying for a student loan, please contact the Student Financial Office at (336) 758-5154 or gradfinaid@nullwfu.edu.
---
LEARNING ASSISTANCE CENTER
Wake Forest University is an equal access institution which admits qualified applicants without regard to disability. For additional information, please access the Learning Assistance Center at http://lac.wfu.edu/.
---
PARKING
Any student who wishes to park a vehicle on a university parking lot must register that vehicle with the Parking and Transportation office. 
Vehicle Registration for commuting students (graduate students) will begin Wednesday, August 8th at 9:00 a.m.  First year graduate students will not have the option for on campus permits.  Please view the following link where you will find information regarding Commuter Student Off-Campus Permits:  https://prod.wp.cdn.aws.wfu.edu/sites/207/2018/07/Commuter_Email_Communication_2018_2019.pdf.
Please contact the Transportation and Parking Services Office with any questions at parking@nullwfu.edu or 336-758-PARK.
---
HOUSING
Wake Forest University owns properties within close proximity to the campus that are used for housing graduate students of WFU. Our properties have been renovated with modern amenities and appliances.  Additional information can be accessed at http://properties.wfu.edu/graduate-housing/.
Other web sites you may want to access are the Winston-Salem Journal at http://www.journalnow.com/; the Graduate School web site,   http://graduate.wfu.edu/housing.html; http://www.rent.com/ and   http://www.apartments.com/.
---
Air Travel to Wake Forest University:
The nearest airport is the Piedmont Triad International Airport (GSO) which is approximately a 30 minute car ride to WFU.  Taxi service is available at the airport through the following provider:  Triad Transportation.  You can find their contact information on their website and they have a customer service booth on the lower level of the airport near the baggage claim.  You may also use public transportation provided by the Piedmont Authority for Regional Transportation (PART).  A shuttle bus runs from the airport to the PART Regional Hub where you may make a connection to the Winston-Salem terminal.  Once you arrive at the bus station in Winston-Salem you will need a taxi to take you to WFU and your lodgings (10 minutes).  Please note that while this is the most economic option, buses may not be immediately available on your arrival. You can check the schedule on the PART website here: PART Route 1 Schedule.
Although not recommended, we have had students arrive at the Charlotte Douglas International Airport (CLT) which is approximately a 90 minute car ride to WFU. There are multiple shuttle services available but most have to be booked in advance including this one:  Charlotte to Winston-Salem.  You may also take a taxi from the airport to the Amtrak train station where you can purchase a ticket to the High Point station. There is shuttle transfer available from the High Point train station to the Winston-Salem bus terminal using the PART system.  Trains are on a limited schedule so make sure to check your times: Amtrak USA.